Downloads
What's the good of having stuff available online for free if people have to run all over the Web to get it? Not much. So I'm mirroring all my free content here, in case anyone wants to gobble it up. Fair warning: I write smut. If you grab one of my free stories and ignore the warnings, please don't whine about the smut offending you. Similarly, if you are under eighteen, don't read anything marked with any variation of "ADULT." It will contain graphic sex, violence, or both.
Otherwise, happy downloading! As always, feel free to contact me (mbrown at evilkittenproject dot net) with any feedback.
Artwork
Note: It's come to my attention that there are some mighty unscrupulous people slurping up artwork from the web and redistributing it as their own. Not to put too fine a point on it, this behavior sucks. So if you want to see my stuff, look me up on deviantArt. Come find me, I don't bite... much.
3D Freebies
Yep, you saw that right. I'm starting to get into the creation of 3D content. Barely. I have an account over at ShareCG, but it's just as easy to put the stuff up here as well.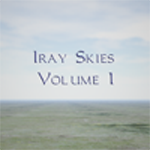 DOWNLOAD 22.8MB ZIP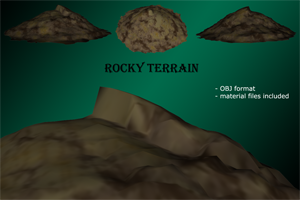 DOWNLOAD 359KB ZIP
This is a basic terrain model, a rocky hill with a smooth side and a small ridge on top. It is handy as a background prop or for a more close-up view of a character toiling up a mountain. I've found it surprisingly useful, so I thought I'd share.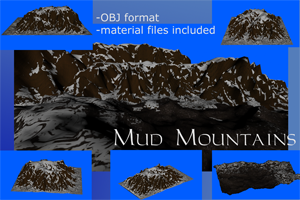 DOWNLOAD 111.52MB ZIP Mud Mountains, Part 1
This is a set of large OBJ props, big enough to split into two files. These props can be used separately or together to create a large, snowy, muddy mountain range, with a deep central valley. If you have a water plane handy, add it to create a high mountain lake or a rugged coastal inlet. These mountains were made in Bryce, so the peaks aren't suitable for close-up renders, but they make a great background.
DOWNLOAD 110.51MB ZIP Mud Mountains, Part 2
This is the second half of the Mud Mountains terrain set.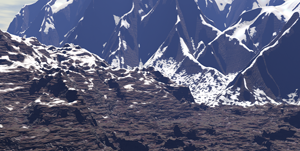 DOWNLOAD 16.66MB ZIP Mud Mountains Companion
This is a set of background images and HRDIs intended to work with my Mud Mountains set.
Ebooks
Aw, shit. Look what I've done. I've pulled my freebies and put 'em on Amazon Kindle Direct, where they look very unkindly on authors who distribute versions of their stuff behind the mighty Amazon's back. Sorry. My reasoning? Probably not what you want to hear, but I'm tired of knowing that crappy writers are making money through KDP and I'm giving most of my hard work away for free. Yeah, that kind of makes me a sellout. But no one ever achieved their dream of becoming a full-time writer by giving their life's work away.
Marie Brown's writing on Amazon